Hello my lovely readers!
There are going to be some changes coming to my Spoonful of Sugar Free because I'm going to college! Next week I pack up my stuff and move 1000 miles across the country. I'm saying goodbye to the beautiful, sunny, warm Florida, and saying hello to the chilly midwest.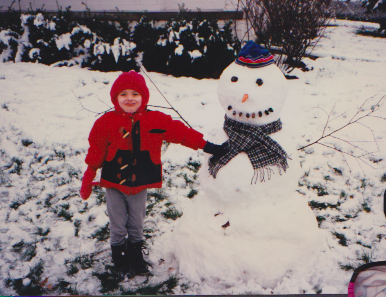 (Saying hello again to snow and warm jackets!)
I don't know what these next few years will hold, but I do know that I want you all to be a part of it. I've met so many great people through Spoonful of Sugar Free, and I want to continue my journey of healthy eating and sharing sugar-free recipes with you.
That being said, there will definitely be changes to my site. I'll be a lot more busy with my schoolwork and extracurriculars in college, so here are some changes you might see coming:
Less frequent posting. Because I will be very busy, I'll probably have time to post only once a week.
Different types of recipes. There will be a kitchen I have access to in my dorm, but I won't have all the equipment I'm used to at home. I will also be cooking just for myself, so you might see a lot of recipes "for one," like my Cherry Chocolate Chunk Cake, Bitter Chocolate Cake or Peach Crisp.
Tips on staying healthy in college. College is notorious for unhealthy food choices and the "freshman 15." One of my goals for this year is to create a post that addresses this and gives you tips on how to deal with this.
Lessons in nutrition. I will be taking a lot of nutrition courses over the upcoming years, so hopefully I will be able to share the information I learn with you!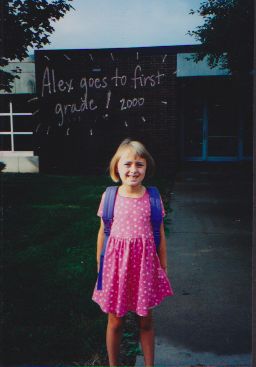 (My first day of 1st Grade…next, college!)
I'm excited to start this new chapter in my life! Who knows exactly what will happen with me and my website within the next couple months, but I will try to keep you all updated with my progress. Here are some of my plans for my college career:
Student athlete. I'm playing D1 tennis for my college team. This is very exciting for me because tennis is an individual sport. In college, tennis is played on a team. This will play a big part of my college career with daily practices, weight training, sprint training, and tournaments throughout the year.
Majoring in dietetics. I plan on becoming a Registered Dietitian, so there will be a lot of nutrition and science courses on my class schedule. After my 4 year undergraduate degree I will need to take a dietetic internship and the Dietetics exam.
Honors college. I'm excited to be a part of the honors program to work with my professors and fellow classmates.
Internships and shadows. In order to become a registered dietitian, I need to intern and shadow other professionals. During summer vacations, I will look for professionals willing to take me on as their intern. There is also a study abroad program through my school that I would love to take part in.
Thank you all for sticking with me throughout these past couple years. Stay tuned for next week for a look at my new dorm room!
Thought-provoking, mind-prodding question of the day:
Share with me a memorable experience from your college years!