What's a great thing about pancakes?
They're versatile! I can turn them into any flavor I choose by simply adding a handful of this, a dash of that, and a scoop of something else. It's the difference between plain and boring pancakes to caramelized banana-cinnamon pancakes or chocolate covered cherry pancakes.
I can't forget, though, that the greatest thing about pancakes is eating them!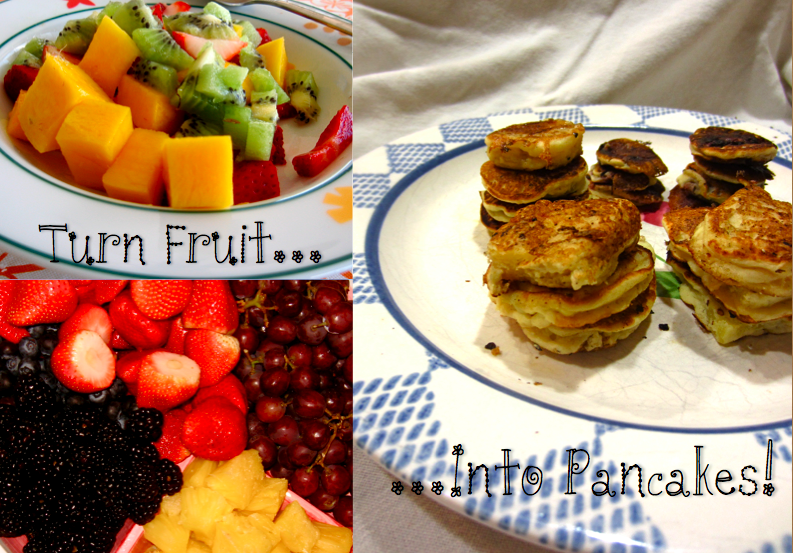 These pancakes are a great sunday brunch meal. It's fun for kids to help with, too, because they can help stir the batter, pick out the fruit, and dip the fruit in the batter. Mom or dad need to help them with the fruit-slicing and pancake-frying, though.
Feel free to use any fruit you want, but make sure to slice it so that it can cook-through. Softer fruit like sliced bananas and berries work best because it stays soft when cooked. Apples work well, too, but they are still crunchy when cooked.
These pancakes made with coconut flour are paleo, dairy-free, gluten-free, soy-free, corn-free, nut-free, and sugar-free!
Ingredients
1/2 cup coconut flour
1 teaspoon baking powder
pinch salt
1 cup dairy-free milk
4 eggs
2 teaspoons vanilla
Fresh or frozen cut fruit (Berries, apples, bananas, pineapple, peaches, etc.)
Coconut oil, for pan
Instructions
First, make the pancake batter by mixing together the dry ingredients.
In a separate bowl, combine wet ingredients and stir until smooth.
Combine wet and dry and mix. It is okay if the batter is a little clumpy.
Thinly slice the fruit in circles or chunks.
Heat skillet to medium heat and grease with oil.
Dip Fruit slices in pancake batter until well-coated. There may be a little extra bit of batter dripping off.
Flip pancake after it starts to bubble slightly, about a minute.
Continue to cook until browned on exterior.
http://www.spoonfulofsugarfree.com/2012/07/23/pancake-dipped-fruit/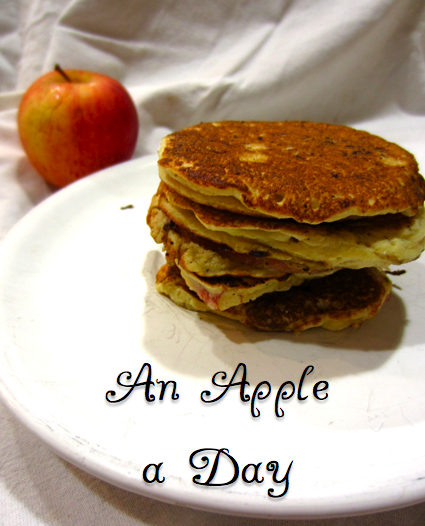 You can really use any pancake  batter you want to make this. If you don't have any coconut flour, try making my Gluten-Free One Size Fits All pancake batter.
I love adding a bit of cinnamon to the batter and dipping banana slices in. You can also try adding a bit of cocoa powder for chocolate pancakes, or pumpkin spice and a scoop of pumpkin for a pumpkin pie pancake.
Thought-provoking, mind-prodding question of the day:
What is the craziest pancake-flavor combo you've tried? If you haven't tried any "crazy" flavors, make one up!