When my family was in town last week, I learned many things. Including a fun jumping-jack workout! It takes 10-15 minutes to complete and works the whole body. It's a great way to jump start the day with a quick morning workout, or to do when you don't have much time to spare.
When I was in Chicago over the weekend, my days were packed with activities, and I didn't have much gym time. This workout was easy to do, and you don't need any fancy equipment to do it.
Now you have no excuse to not workout! Muahahahaaa!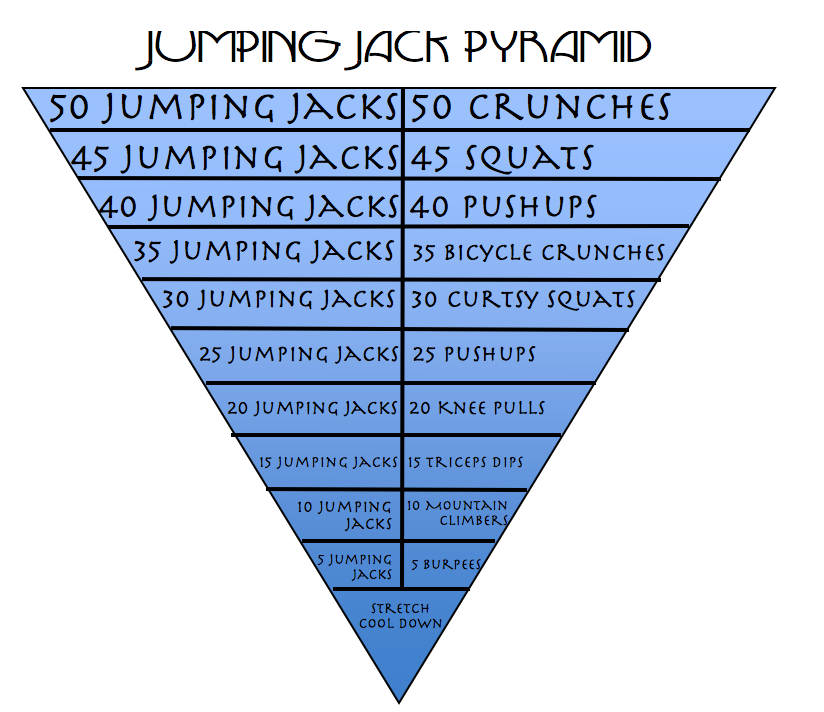 My aunt taught me this workout. You complete fifty jumping jacks and fifty exercises. For each round after that, the reps decrease by five. At the end, cool down with your favorite stretches. The first time I did this, I was sore the next day! Jumping jacks work a muscle that I really don't use that often.
NOTES:
Crunches: Do not strain your neck. May be completed with legs in the air or on ground.
Squats: Do not squat with knees over toes. Squat in 90* angle. If you cannot do this the first time, try using a chair as a guide.
Bicycle Crunch: On the ground with legs in 90* angle in air with head up and arms behind head. Bring opposite elbow to opposite knee. 35 each leg.
Curtsy squats: bring one leg behind and squat like a curtsy. 30 each leg.
Pushups: Feel free to start from your knees.
Knee Pulls: Start with arms up and bring one leg up while pulling arms down. 20 each leg.
Mountain Climbers: start in plank and bring knees to chest. Should be completed quickly.
Burpees: Start in Plank and jump knees towards hands. Jump up. Go back to plank. (This is one rep).
Feel free to change the workouts up a bit! Do kick box-punches instead of jumping jacks, pull ups instead of burpees, etc.
Giveaway Time! 
Henley from SlimKicker would like to give one of these Digital Measuring Cup and Scale to one Spoonful of Sugar Free reader. This is for all your hard work, everyone!
How to Enter:
This Giveaway is now Closed. 
There are multiple ways to win. Please leave a separate comment below for each entry.
Answer this question: How do you keep yourself motivated to stay fit?
Subscribe to Spoonful of Sugar Free by entering your email address in the "Subscribe" box on the right. Or follow by RSS, google reader, etc. **Please note that if you were subscribed to me before, you may no longer be subscribed because I switched my site servers.
Like me on facebook.
Follow me on twitter and tweet about this giveaway. Can be something like, "I want to win @Bobs_Red_Mill coconut flour @SugarFreeAlex  http://www.spoonfulofsugarfree.com/2012/02/26/chocolate-peanut-butter-cake-giveaway/ "
Follow SlimKicker on twitter.
Follow me on Pinterest and Pin something of mine.
Blog about this giveaway on your blog.
Giveaway ends Sunday, March 25th at Midnight.
Good luck!
P.S. If you are in need of some motivation, check out SlimKicker.com. They offer a calorie counter, and challenges that keep you motivated. It's like a level-up game, where you start out as level 1, and gradually level up as you complete harder and harder challenges. (Courtesy of SlimKicker).